08/31/2019 in Video
What To Look For When Buying A Used Car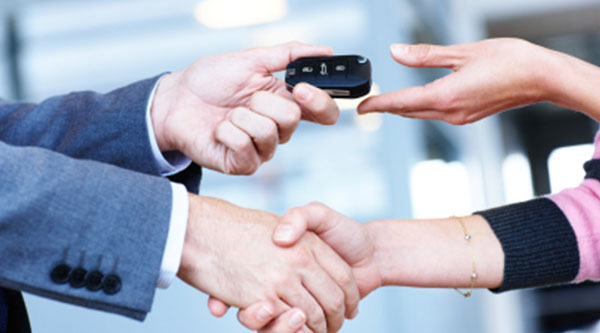 Buying a used car can be a good option when you're looking for a quality vehicle without the higher price tag. While a used car can be a sensible option, buyers still need to make smart choices. There's a lot to look for when buying a used vehicle, but here are some ways we can help you choose the right car for you.
INSPECT THE CAR'S EXTERIOR AND INTERIOR
Inspect both the outside and inside of the vehicle. Look over the exterior of the vehicle, says CARFAX, checking for scratches, dents and rust. You probably don't need to be worried about small dings or scratches. It's also a good idea to open and close the doors and trunk.
Inspect the interior by sitting in all the seats and looking for unusual wear and tear in the upholstery, says CARFAX. If the interior of the car smells musty, check the carpet and floor mats for signs of a a leak or water damage.
Go for a Test Drive
Going for a test drive can help you determine the condition of the car and whether it's a good fit for you, according to Edmunds. You may want to turn the key to the "accessory" position before starting the engine, says KBB. You should see all the dashboard warning lights go on. If they do not light up, or stay on when you turn the ignition, make sure the issue is inspected. While on a test drive, keep your eyes and ears open. CARFAX suggests driving the car on different types of roads and at varying speeds to see if the transmission shifts smoothly. Please note: the surface you are driving on can give a false impression of how the vehicle runs. Make sure to note any unusual engine or brake noises, and whether all of the electronics in the car are working properly. .
CONSIDER THE MILEAGE
While you should take a vehicle's mileage into consideration, high mileage isn't necessarily a bad thing and low mileage doesn't always mean the car is in great shape.
What Is Good Mileage for a Used Car?
There's no simple answer to this question, because the way the car has been maintained and used may be more important than its mileage, according to AutoTrader. It's a good idea to use caution when considering a car with high mileage, because certain components and engine parts simply don't last forever, says AutoTrader. However, if the owner has kept up with maintenance and taken care of any issues, the car may have a lot of life left in it. AutoTrader also notes that how the car was used can make a difference. A car with 100,000 miles on mostly highways may be in better shape than a high-mileage car that was used mostly on city roads, which can be harder on a vehicle. When we handle higher mileage cars at RideSmart, we make sure that they are of the highest quality. Sometimes a higher mileage car may be a better choice due to price. Additionally, with the high volume of diesel cars we handle, we feel it is imperative to inform you that diesel engines can last up to 800,000 miles. In addition, Volkswagen offers an extended warranty on all diesel cars which you can read about under our Volkswagen Deals page.
Is Low Mileage on a Used Car Better?
Low-mileage used cars can certainly be appealing, but it doesn't necessarily make them a great deal. Low mileage can certainly mean less wear and tear and a longer life. However, if a car is driven infrequently, AutoTrader says that the plastic and rubber parts on the vehicle may dry out and get brittle. This is why RideSmart often puts brand new brakes and rotors on vehicles we acquire. It's also better for the drivetrain when the vehicle is used consistently. We make sure to drive each vehicle in inventory on a regular schedule to ensure they continue to run smoothly.
It's smart to check the mileage on a used vehicle, but keep in mind that how the vehicle has been maintained and used may be more important that what the odometer says.
CHECK FOR LEAKS
Any car leaking fluids is generally a red flag for a needed repair. Check under the car to see if there's any fluid leaking, says CARFAX. Black fluid might be an indicator of leaking oil, while green, yellow or pink fluid may indicate a leak in antifreeze and reddish fluid could be a leak in the transmission or power-steering fluid, says Cars.com. This can be deceiving, however. If the air conditioning is running in the car, condensation accumulates on the undercarriage and drips onto the ground. Be sure to make the distinction between harmless and normal water drippage, and more serious leaks.
Determine a Fair Purchase Price
To help ensure you're being charged a fair price, make sure to compare prices for the same make, model and year with several sources. Checking and dealer prices can simply be done online. There are a number of online tools you can use to compare prices, including KBB and National Automobile Dealers Association Guides. Even though condition and mileage will play a role in price, you can still get a ballpark figure of the vehicle's market value. When comparing prices of vehicles, it is important to take into consideration the options that vehicle has. Price checking may be deceiving in this area. For example, if you are looking at the KBB value for a base model car, it will obviously be much less than a car with options like navigation and leather. Even the smallest options, such as a telescopic steering wheel, can change the value of a car dramatically.
DO YOUR RESEARCH
There's a lot of information online that can help you check on a particular vehicle's history as well as whether there are any recalls on it.
Look Up the VIN
The Vehicle Identification Number, or VIN, can reveal a lot about a car. Checking a VIN decoder chart is a quick way to see if a used car's VIN information matches up with what's in the vehicle title and records, according to Edmunds. There are a number of VIN decoders available online, including one from the National Highway Traffic Safety Administration (NHTSA).
The VIN can also be used to see if there are any recalls on the vehicle. You can look up a vehicle by VIN on the NHTSA's Safety Issues and Recalls page to see if the vehicle needs repairs due to a safety recall. Keep in mind, however, that there may not be information on an older vehicle, any nonsafety-related recalls or recently announced recalls. Certain brands and international vehicles may also not be listed.
Review the Vehicle History Report
A vehicle history report can help you see title problems, ownership history, service points and previous accidents, says KBB. You can get a vehicle history report online for a fee by entering the VIN or license plate number, says Edmunds. RideSmart provides complimentary CarFax reports for all vehicles. Simply click on the "CarFax Report" button on any vehicle listing.
AVOID BEING RUSHED
Many dealerships rush out to greet customers as soon as they arrive on the lot, without giving the customer any time to look around. Here at RideSmart, we believe the customer should be able to take as much time as they need when considering their purchase. We won't bombard you with information, or follow you around. If you would like to speak with a salesperson simply step inside our newly renovated waiting room, and you will be greeted and have all questions answered. At RideSmart we understand that buying a car is a big decision. You can take as much time as you need to consider your purchase.
Following these tips may help you choose a used car that meets your needs and fits your budget. Knowing what to look for and consider can help you make an informed decision about your next vehicle.
Mike Orsini, Manager of Online Consumer Marketing at CARFAX, contributed to the video as well as earlier versions of this article.
From Allstate Insurance Website